Photographic collection of the Institute of History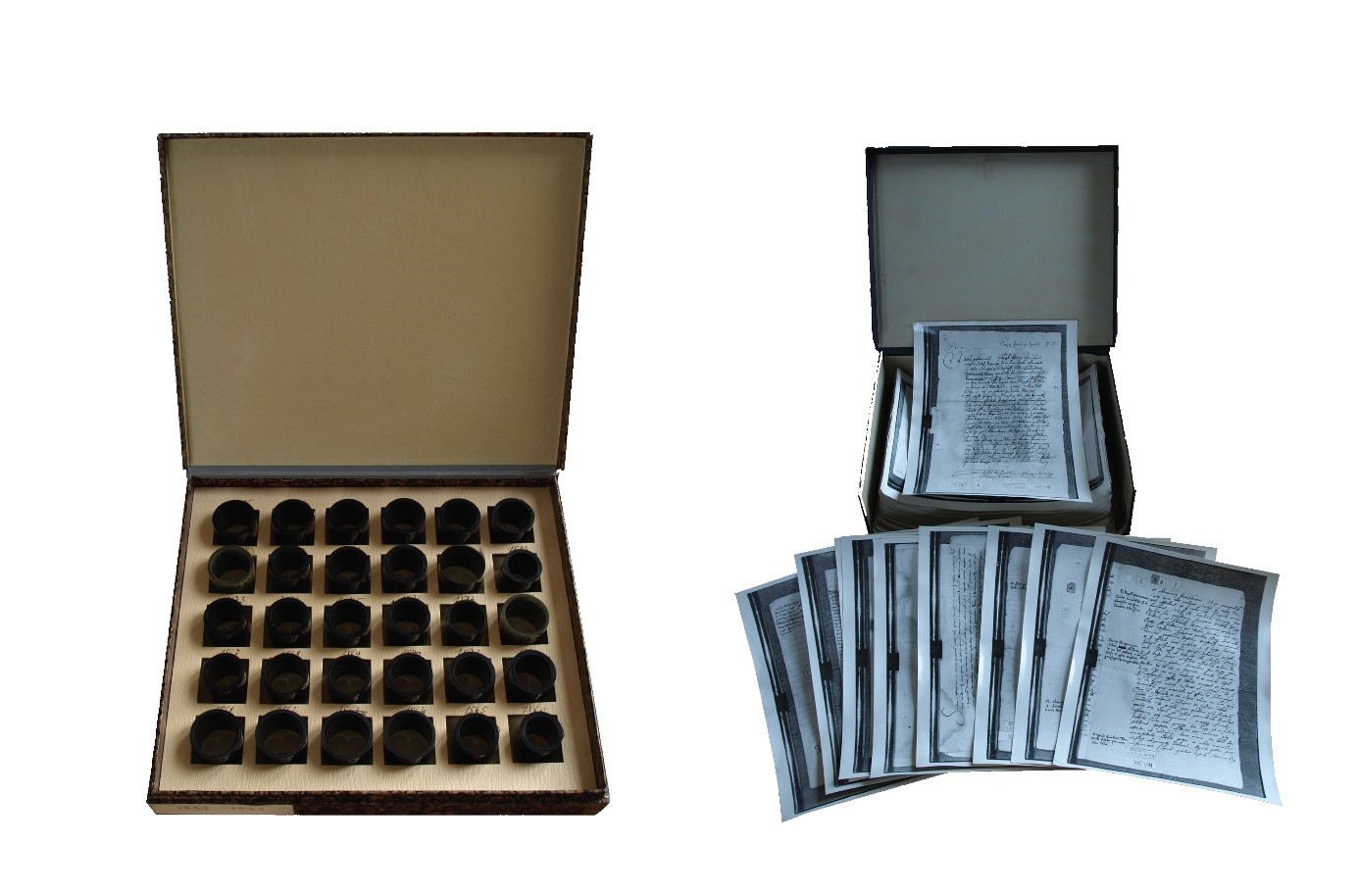 The photo collection of the Historical Institute is closed to the public from 1 February 2023 until further notice due to a stock take.
The need for the creation of a photographic collection at the Institute of History of the Czech Academy of Sciences arose from the institute's original mission. The Czechoslovak State Historical Publishing Institute was founded in 1921 as a specialized publishing house drawing on continual research conducted by domestic and foreign libraries and archives. One of the new institute's main tasks was to take up work on a series entitled Regesta diplomatica nec non epistolaria Bohemiae et Moraviae (RBM) with the aim of compiling all writings and documents from the Luxembourg period. This gradually gave rise to an extensive collection of transcriptions and, later, photographic negatives and photographs taken in domestic and European archives; however, due to limited finances and organizational problems, this continual research primarily focused on domestic archive catalogues. The historical development of the institute was also influenced by changes in its concept and focus, which, especially in the period following the Second World War, eventually led to an overall decline in its publishing activities. Nonetheless, preparations for the publication of RBM continued, and dozens of archive collections in Czechoslovakia and abroad were subjected to thorough examination. Despite the somewhat problematic processing of the materials, the collection represents a remarkable archive of photographic documents, the scope of which is unmatched in terms of chronology and content. No other continual research project has focused on the comprehensive gathering of diplomatic material spanning the entire Middle Ages with overlaps into the modern period. The exceptionality of the collection is best seen in a surviving record putting the number of images on photographic scrolls in September of 1960 at just under 106,000. Certainly, it cannot be assumed that the collection represents a complete photodocumentation of Bohemical writings; in particular, archival research abroad was somewhat selective. Despite this, it does constitute the most comprehensive collection of diplomatic sources in the Czech Republic.  
The photographic collection of the Institute of History also contains an abundance of material with a general focus on European history, including photographs of important people, places, monuments, events, writings, etc.
Due to the nature, size, and means of storage of the collection, it is not yet available to the general public. Currently, access to the collection is granted only on the basis of written research inquires addressed to the curators. The inventories of the RBM collection, which offer an alphabetized overview of domestic and foreign archives and the documents photographed in them that served as the basis for further work on the publication series, are freely accessible in electronic form – RBM Inventories | August Sedláček Card Files (augustsedlacek.cz). The alphabetized files contain lists of individual photographed documents and/or other types of sources with formal (original pressmark, identifiers within the photographic collection) and contentual (date inscription, publisher, addressee) information.
Contact
PhDr. Eva Doležalová, Ph.D.
email: dolezal@hiu.cas.cz
PhDr. Lenka Blechová, Ph.D.
email: blechova@hiu.cas.cz
PhDr. Jan Zelenka, Ph.D.
email: zelenka@hiu.cas.cz