Historical Geography
ISSN 0323-0988 (Print); 2788-3191 (On-line)
Historical Geography profiles historical geography as a field encompassing a wide range of topics, methods, and sources. It tracks new directions and perspectives in historical-geographic research as well as ongoing historical-geographic projects. It has been published since 1 January 1968. Like modern science and its methods, the conception of historical-geographic research and the content of Historical Geography are continually changing. Nonetheless, the journal remains committed to several primary areas of focus, including the historical geography of residences and their inhabitants, economic historical geography, the territorial development of the Czech lands, physical-geographic historical geography, the history of cartography, historical cartography, the history of cultural geography, and, most recently, environmental history. The aforesaid topics are supplemented with other works, such as theoretical, methodological, and terminological papers and fundamental findings from bachelor's and master's theses and doctoral dissertations.
Historical Geography had been a peer-reviewed journal since 1999 (beginning with vol. 30), and since 2008 it has been included on the Research, Development, and Innovation Council's List of Peer-Reviewed and Nonimpact Periodicals Published in the Czech Republic. Furthermore, it is covered in the international database European Reference Index for the Humanities (ERIH PLUS).
The publication ethics of Historical Geography are based on the ethical code of the Committee on Publication Ethics (COPE).
The focus and content of individual volumes of the journal were previously examined in extensive studies by Zdeněk Boháč (Úkoly Komise pro historickou geografii při ČSAV a tematické okruhy prací, publikovaných ve sborníku Historická geografie /vol. 1–20/, in: HG 22, 1983, pp. 60–95) and Leoš Jeleček (Historická geografie v Československu a její sborník "Historická geografie", in: HG 26, 1987, pp. 45–56).
Contact address
Institute of History of the Czech Academy of Sciences
Prosecká 809/76
190 00 Praha 9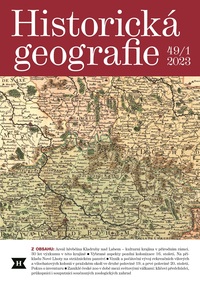 Editor-in-Chief
Managing Editor
Editorial Board
Pavel Boháč (Prague); Jiří Cajthaml (Faculty of Civil Engineering, Czech Technical University in Prague); Jiří Dvořák (Faculty of Arts, University of South Bohemia in České Budějovice); Ryszard Gładkiewicz (Uniwersytet Wrocławski, Wrocław); Eva Chodějovská (Moravian Library); Peter Chrastina (University of Ss. Cyril and Methodius in Trnava); Pavel Chromý (Faculty of Science, Charles University); Eva Semotanová (Institute of History, Czech Academy of Sciences); Markéta Šantrůčková (Silva Tarouca Research Institute for Landscape and Ornamental Gardening); Robert Šimůnek (Institute of History, Czech Academy of Sciences); Aleš Vyskočil (Institute of History, Czech Academy of Sciences); Josef Žemlička (Institute of History, Czech Academy of Sciences)
Volumes