Czech Historical Review
ISSN 0862-6111 (Print); 2570-9208 (On-line)
Founded on 17 November 1894 and published since 1895, Czech Historical Review is a pivotal historical journal presenting important findings of research on Czech and world history, material studies, discussions, reviews, reports, and compendia on domestic and foreign historiographic output. Since its inception, it has stood as a respected periodical, whose studies are evaluated by at least two reviewers, the results of which guide the editorial board in its decisions. The journal strives to showcase not only a diverse range of methodologies but also the opinions of different generations of historians. The Scientific Council works to ensure that Czech Historical Review publishes contributions from experts throughout the Czech Republic and offers essential information about foreign output together with important information from scientific life. The journal is published on a quarterly basis.
Czech Historical Review is covered in the SCOPUS and ERIH PLUS (category INT1) databases. The journal's review section is published in full in the Recensio database. The contents of individual issues can also be found on the online platform H-Soz-u-Kult. In addtion, the journal appears on the Research, Development, and Innovation Council's List of Peer-Reviewed and Nonimpact Periodicals Published in the Czech Republic.  
Procedures for External Peer Review Process
Contact address
Institute of History of the Czech Academy of Sciences
Prosecká 809/76
190 00 Praha 9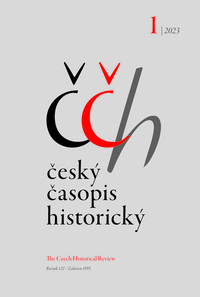 Editor-in-Chief
Jiří Pešek

prof. PhDr., CSc.
Managing Editor
Technical Editor
Scientific Board
Zdeněk Beneš (Faculty of Arts, Charles University); Václav Bůžek (Faculty of Arts, University of South Bohemia in České Budějovice); Milan Hlavačka (Institute of History, Czech Academy of Sciences); Martin Holý (Institute of History, Czech Academy of Sciences); Michaela Hrubá (Faculty of Arts, Jan Evangelista Purkyně University in Ústí nad Labem); Tomáš Knoz (Faculty of Arts, Masaryk University); Robert Kvaček (Faculty of Arts, Charles University); Jiří Lach (Faculty of Arts, Palacký University Olomouc); Václav Ledvinka (Prague City Archives); Jiří Malíř (Faculty of Arts, Masaryk University); Jan Němeček (Institute of History, Czech Academy of Sciences); Anna Pumprová (Faculty of Arts, University of Ostrava); Svatava Raková (Institute of History, Czech Academy of Sciences); Eva Semotanová (Institute of History, Czech Academy of Sciences); Petr Sommer (Institute of Archaeology, Czech Academy of Sciences, Prague); Miroslav Šedivý (Faculty of Arts and Philosophy, University of Pardubice); Petr Vorel (Faculty of Arts and Philosophy, University of Pardubice); Josef Žemlička (Institute of History, Czech Academy of Sciences)
Associate Editors
Marie Buňatová (Institute of History, Czech Academy of Sciences); Ivan Hlaváček (Faculty of Arts, Charles University); Zdeněk Hojda (Faculty of Arts, Charles University); Miroslav Hroch (Prague); Magdaléna Pokorná (Institute of History, Czech Academy of Sciences); Ivan Šedivý (Faculty of Arts, Charles University)
International Scientific Board
Hugh L. Agnew (Washington); Joachim Bahlcke (Stuttgart); Detlef Brandes (Düsseldorf); Robert J. W. Evans (Oxford), Henryk Gmiterek (Lublin); Wojciech Iwańczak (Warszawa); Dušan Kováč (Bratislava); Piotr M. Majewski (Varšava); Antoine Marès (Paris); Ralph Melville (Mainz); Nicolette Mout (Leiden); Taku Shinohara (Tokio); Alain Soubigou (Paris); Thomas Winkelbauer (Wien)
Volumes